After several years of watching OTT players cannibalize their potential revenues, telcos are finally getting the chance to recover lost ground. A ray of hope is emerging in the shape of the Internet of Things services based on excellent connectivity.
New and exciting revenue-building opportunities are underway, motivating telecom operators to rethink their strategies and embed digital into their core business models, especially with regard to the B2B market. To wrest back their pole position, communication services providers are making inroads into the IoT market, which is expected to generate over $1.5 trillion annual revenue by 2030.
According to Gartner predictions, by next year, one in four large organizations will be either buying or selling data on formal online data marketplaces. Telecom companies in particular have a unique opportunity to capitalize on their access to vast volumes of data flowing through their infrastructure.
A new perspective on telcos' competitive advantage: The IoT in Telecom
The regularly increasing number of digital natives living the 'always-on' lifestyle is pushing the demand for connected devices, the worldwide number of which already exceeds 20 billion. The Industry 4.0 evolution and the drive to automation are further contributing to the adoption of smart solutions in business.
In this setting, telcos have the upper hand over competitors, as they yield the expertise and resources to manage and connect ubiquitous IoT devices in their network. Many of them are already very active in the field, offering their own network connectivity, sensors, devices, and IoT applications to create new telecom value-added services. Industry leaders such as Comcast, Verizon, AT&T or Vodafone are deploying Narrowband IoT and LTE networks for low-cost, comprehensive coverage, connecting devices over the long range.
Key IoT use cases in telecom
The money-spinning IoT in telecom realm provides telcos with a unique chance to monetize the data they have and venture into new industries, offering initiatives and services beyond network connectivity. Nevertheless, to reposition themselves as IoT leaders, service operators cannot walk alone.
By joining forces with other companies in the IoT ecosystem, CSPs can explore new opportunities and IoT use cases in telecom to develop a more extensive array of services based on their unique assets. The use of IoT in telecom industry may include intelligent networks, data analytics, IoT platforms, billing, CRM, and cloud services for a vast range of industries, from manufacturing to healthcare.
The distribution of value across the IoT chain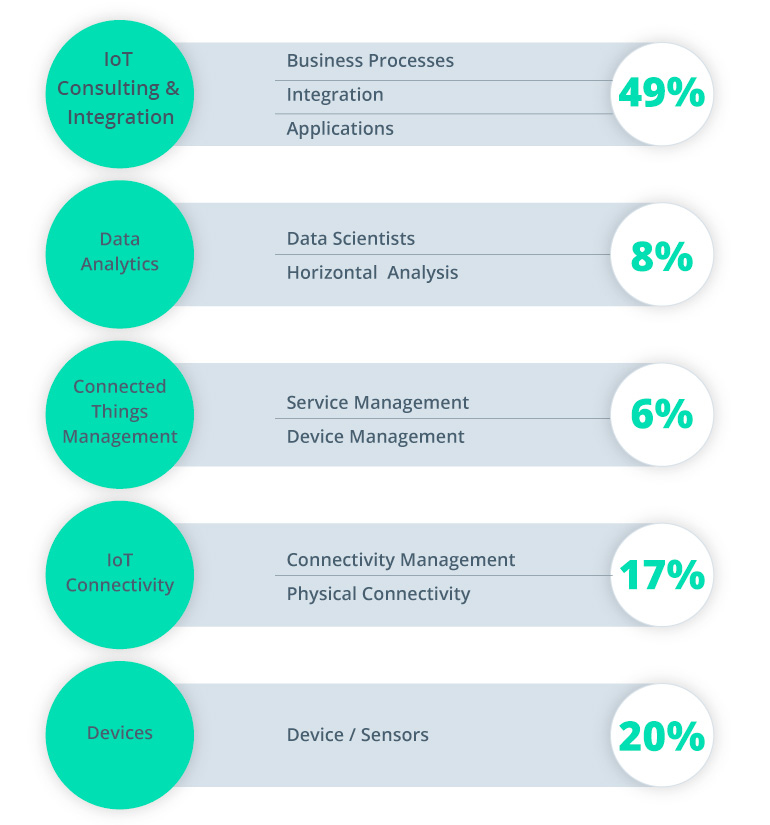 Source: Accenture
Industrial monitoring systems
A striking 87% of industrial businesses are planning to expand their use of IoT to proactively manage their resources and equipment in the real time. The advent of Industry 4.0 opens up a substantial opportunity for telecoms to make a foray into manufacturing, by powering connectivity in intelligent supply chains.
One of the ways for CSPs to capitalize on IoT in telecom industry is through tailored network offerings. They connect every piece of the complex manufacturing ecosystem, from temperature sensors to flow meters, to ensure end-to-end supply-chain visibility, improve production efficiency, and drive cost savings. T-mobile is one of the first carriers to take advantage of this IoT in telecom application. In 2018, the company launched the first Narrowband IoT network in the US to help industrial clients capitalize on the power of data in their warehouses.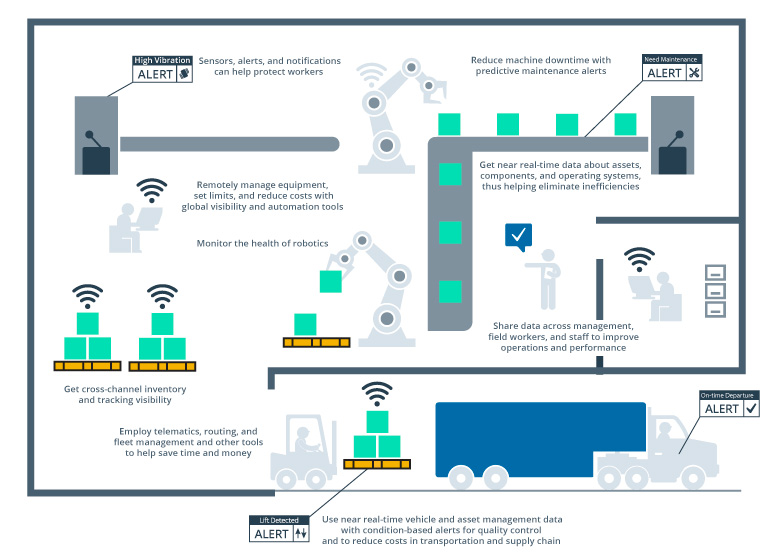 Source: AT&T Business
Smart cities and shared economy
5G and Narrowband IoT are the mainstays of smart city implementation. Therefore, CSPs conclude mutually beneficial public–private partnership agreements with municipalities, local governments, and academia, acting as suppliers of critical services for digitizing and integrating urban infrastructure.
There are many roles telecoms can assume in the smart-city value chain, supporting the development of efficient, inclusive, and connected environments and maximizing their own revenue share. In addition to providing broadband, operators may also extend their capacities to supply data management and monitoring solutions and create branded customer-facing service delivery platforms. The urban environment provides fertile ground for telecom operators, as shown by the enormous number of real-life use cases of telco involvement in intelligent city initiatives. O2, AT&T, Telefónica, NTT Docomo, SK Telecom, Deutsche Telekom — these are only a few among dozens of Tier-1 telecom players modernizing cities around the world by supplying IoT-based solutions.


Discover the advantages of IoT-enabled Mobility as a Service solutions for improved transport experience in the city

Read more
Smart homes and buildings
Telcos also have a significant role to play in the increasingly growing smart home and building market. Apart from supplying network resources and bandwidth to connect heating, utilities, air conditioning, alarms, locks, cameras and appliances, telecom operators are positioning themselves as third-party resellers of tailored consumer applications and services for this segment.
Comcast was one of the first telcos to drive smart home investments, expanding its home entertainment portfolio with Xfinity. The service integrates TV, internet, voice, mobile, and home management on a single dashboard. Other telecoms are also following Comcast's path. Looking to monetize smart home opportunities, they are taking the partnership route and teaming up with hardware and software suppliers to develop connected home solutions. Examples include Telefónica Spain's partnership with Microsoft to create new AI-powered, in-home experiences for customers, or Verizon's recent cooperation with Honeywell to embed the provider's LTE connectivity into smart meters.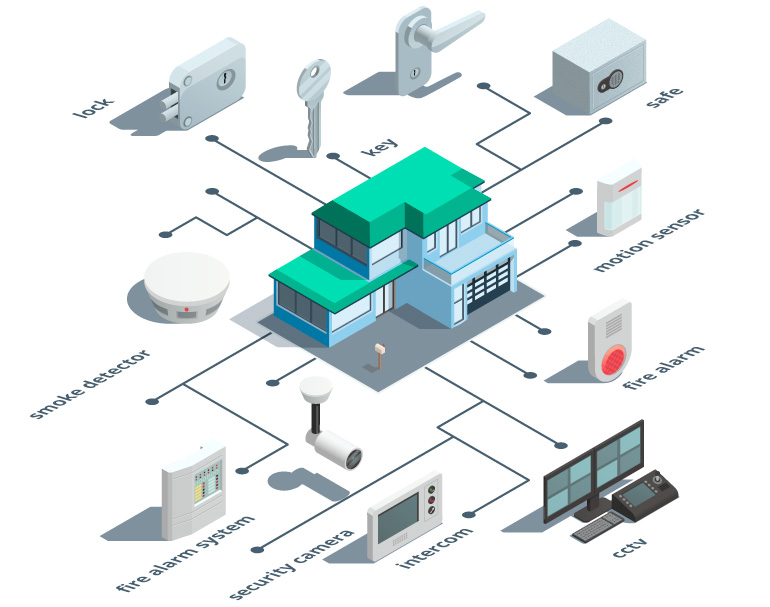 IoT for the healthcare sector
Estimated to reach US$176.82 billion by 2026, IoT in the healthcare market is a revenue goldmine for telecom operators. IoT makes it possible to monitor and manage the health of those suffering from chronic or age-related conditions, and create new, high-value remote medical services based on modern technology and connectivity.
The most significant Telco IoT use cases in remote healthcare include the supply of remote asset management platforms, remote healthcare diagnostics devices and solutions, and smart incident management systems. Telecom operators are taking charge in building secure, robust, and resilient networks to connect the ecosystem of smart apps and devices. At the same time, their business partners handle the delivery of the hardware and software infrastructure.
Due to data sensitivity and sophistication of technology, IoT deployment in medicine requires substantial investment contributions. However, the social impacts of these implementations are outstanding. An interesting example comes from South Korea, where the leading telecom operator, SK Telecom, signed a strategic deal with Yonsei University to build an IoT-driven hospital, which allows patients to take control of their own beds, lighting, and entertainment options. In China, several leading medical facilities are working together on the implementation of the first 5G-based hospital network standard to optimize healthcare delivery in the country.
Connected vehicles and autonomous driving
The automotive industry is among the most significant sectors for IoT endpoints and 5G. While OTTs are trying to elbow their way through to the connected car value chain, telecoms remain at the edge as providers of the core part of the autonomous vehicle ecosystem. They are partnering up with software development companies and integrators to create highly secure, robust management platforms. These solutions enhance vehicles with a full suite of telematics, automation, infotainment, navigation, and fleet management services.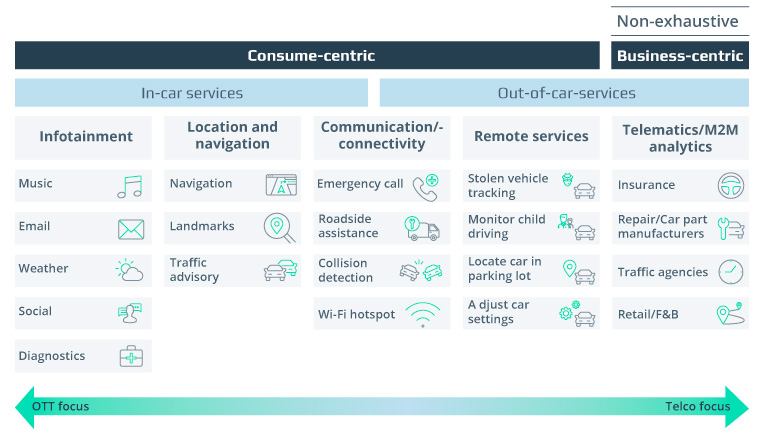 For example, Nokia is accelerating autonomous driving with its Worldwide IoT Network Grid (WING). The managed service provides OEMs with a multi-tenant, cloud-native IoT core infrastructure and management platform. Beyond providing managed connectivity for a secure and reliable connection, CSPs are also investing in their own connected car services that span sophisticated in-car entertainment and enable out-of-car experiences.


Learn how over-the-air mapping solutions can translate into new market opportunities for IoT connectivity providers

Read more
Internal use of IoT in telecom industry
CSPs are also embarking on their own IoT in telecom journey, utilizing the power of acquired data to tap into crucial insights into their inner workings. Telcos deploy intricate software platforms to connect diverse physical assets, leveraging their combined intelligence to strengthen decision-making and develop prediction models.
Internally, telecoms are taking advantage of IoT technology to drive efficiencies and optimize the use of resources within their own business. For instance, through IoT-enabled building energy management, AT&T was able to curb energy use in its facilities by 9M kWh in a year, resulting in almost one million USD worth of savings. The provider also builds on IoT data to streamline supply chain operations and make vehicle fleet management more efficient.
The future of value-added services and IoT in telecom industry
After establishing themselves as reliable connectivity providers, telcos have reached a turning point. As the scope and profitability of traditional telecom services have plateaued, CSPs must build on core strengths — mature telecommunications infrastructure, impressive data sets, and 5G-enabled connectivity — to retake the leading position in the communications value chain with new, value-added offerings. However, facing competition on its own is not a viable option for any one telco.
To muscle out OTTs and capture cross-industry, lucrative opportunities presented by the Internet of Things, telecom providers need to build an ecosystem of trustworthy and innovative technology partners. It's only by forging partnerships with platform and software players that CSPs may clear paths for sustainable growth and unlock new revenue streams based on modern IoT services.
---
Contact our experts to learn more on how to innovate and competitively differentiate yourself by offering new IoT-enabled services to your customers.